TMM 25035-3 for Race Boats X2-SERIES LITE
Price includes these selectable options
TMM 25035-3 for Race Boats X2-SERIES LITE

269

EUR
ON/OFF switch

2.95

EUR

Yes

WP version (increased protection against water)

9.95

EUR

Yes

standard power cables

0

EUR

Yes

design with water-cooled heatsinks

29.95

EUR

Yes

Price total

311.85

EUR
Why should I buy this product?
2 Years Warranty
32-BIT SYSTEM
Top Care and Engine Control
Unique System of Battery Care
Precise Data Logging + Data Analysis
Each Piece Tested - 100% Warranty
Gold up to 8-Layer PCBs, 105um
Made Using Top Technologies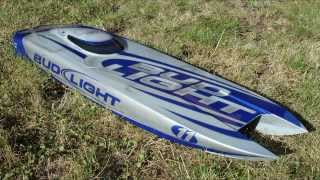 MHZ Mystic 115
MHZ Mystic 115 by Petr Hales - Powerboats.cz. Setup: 2x NEU 1521, ESC 2x MGM controllers TMM 25035-3 X-SERIES, Akku 2x LE4000 50C/100C 7S.
Product parametrs
| | |
| --- | --- |
| Empty batt. behaviour - instant motor cut-off | Yes |
| Setting of the range of neutral zone | No |
| Possibility of switching reversible controller into "one-way" mode | Yes |
| Reversible controller (both-way mode) | Yes |
| Bidirectional "both-way" mode | Yes |
| ACL - Automatic Current Limiting | Yes |
| ACR - Automatic Current Reduce | Yes |
| Temperature fuse of the controller | Yes |
| Current fuse of the controller | Yes |
| False-start protection | Yes |
| Masking of interference | Yes |
| Software reversal of rotation | Yes |
| Empty batt. behaviour - motor power reduction | Yes |
| Adjustable deceleration speed | Yes |
| Adjustable acceleration speed | Yes |
| External signalization of important states | No |
| Possibility of connecting plane position lights and flashing lights | Yes |
| Active free-wheeling circuit ON / OFF | Yes |
| Possibility of automatic setting of throttle limits | Yes |
| Possibility of manually set timing | Yes |
| Automatically set timing | Yes |
| Manually set type of cells | Yes |
| Possibility of manually set number of cells | Yes |
| Possibility of automatic setting of cut off voltage | Yes |
| Possibility of setting switching off voltage | Yes |
| Possibility of setting an amount of residual energy for BEC | Yes |
| Possibility of setting the voltage of BEC | No |
| Possibility of very powerful switching BECs | Yes |
| Possibility of setting current limits | No |
| Possibility of setting RPM limits | No |
| Possibility of motor temperature measuring | No |
| Possibility of cells temperature measuring | No |
| Outstanding cells management | Yes |
| Very high resistance against overloading | Yes |
| Plug and Play (functional immediately without the need for additional programming) | Yes |
| ICS-2 connector - super-fast PC connection link | Yes |
| Programming using PC | Yes |
| Reading-out of data from the controller using PC | Yes |
| Software updates available through internet | Yes |
| Telemetry (back data transfer) | No |
| Real-time Monitoring (PC or other device) | No |
| Internal Data Logger (data recorder) | Yes |
| Possibility of design with ON/OFF switch (connected safely) | Yes |
| Possibility of WR version (full protection against water) | Yes |
| Possibility of WP version (increased protection against water) | Yes |
| Possibility of design with external heatsinks + FAN | Yes |
| Possibility of design with water-cooled heatsinks | Yes |
| Possibility of design with external heatsinks | Yes |
| Length of the servocable | 190 [ mm ] |
| Servocable cross-section | 0.25 [ mm2 ] |
| Length of the power conductors | 120 [ mm ] |
| Power conductors cross-section to batt. / to mot. | 6/4 [ mm2 ] |
| Weight incl. all conductors | 105 [ gram ] |
| Weight without power conductors | 65 [ gram ] |
| Dimensions with external capacitor | 70×31×22 [ mm ] |
| Dimensions | 50×31×22 [ mm ] |
| Max RPMs | 250.000 |
| On-state switch (FETs) resistance at 25 °C | 2 × 0.28 [ mW ] |
| Motor PWM frequency | 8 - 32 [ kHz ] |
| Number of regulation steps | 2048 |
| BEC short circuit protection | Yes |
| Max. BEC current at 25 °C | 6 [ A ] |
| Switching HV-BEC voltage | No |
| Switching S-BEC voltage | 5 [ V ] |
| Available BEC / OPTO versions | S-BEC |
| Max. peak current (peak 5 sec.) | 300 [ A ] |
| Max. continuous current (for full throttle) | 250 [ A ] |
| Operating voltage | 6 - 35 [ V ] |
| Compatible with all types of feeding cells | Yes |
| Number of A123 feeding cells | 3 - 9 |
| Number of NiCd, NiMh feeding cells | 6 - 24 |
| Number of Li-Pol, Li-Ion feeding cells | 2 - 8 |
| "One-way" mode | Yes |
| Possibility of setting current limits | No |
| Possibility of setting RPM limits (motor protection) | No |
| Possibility of motor temperature measuring (motor protection) | No |
| Possibility of cells temperature measuring (cells protection) | No |
| 4 Memory Banks | No |
| 32-BIT SYSTEM | Yes |
| Automatic Sensor Setting | No |
| Possibility of operation also with sensors motors | No |
| Real-time Monitoring (PC or other device) | No |
| Telemetry (real-time back data transfer) | No |
| Internal Data Logger (data recorder) | Yes |