Mazda MX-5 NC with E-supercharger
Did you know that e-turbos are becoming more and more popular and people are customizing them themselves at home? One of those people is Ben, who actively writes about his project on his blog and shares step-by-step instructions.
This project started in 2018 and has been gradually built and modified. Ben's goal is to develop a centrifugal turbocharger driven by an electric motor for the Mazda MZR 2.0l engine. The turbocharger has the ability to develop a minimum of 0.75 bar (11.0 psi) of pressure. The big advantage is the ability to program any boost pressure level at any throttle application, engine speed, and engine load.
Ben plans to run the system during relatively short motorsport events, and when not in use, the system will be turned off and the compressor bypassed. A separate higher voltage battery will run the system and be charged off the alternator when the system is not in use.
Why do it?
If you are asking what the advantages of an electric supercharger are, here is a few of them:
Zero turbo lag, boost on demand
Boost infinitely variable at any engine speed and load
Power usually used to drive the supercharger from the crankshaft is available to the wheels.
System powered from a dedicated battery
Supercharger can be mounted anywhere in the vehicle. In this project, the system is mounted in the rear of the car due to packaging and to help with weight distribution
Tips & Tricks for you
We also asked Ben a few questions that may help you if you would like to start the project by yourself.
Why did you start this project? What was the reason?
I began participating in club motorsport and I had developed the chassis and my driving to the point that I was ready for more power. I have always been interested in electrification and the initial thought of a full electric conversion but the economics of such a project were not viable at the time. This project was smaller in scale and cost but still unique and interesting.


Can anyone do it, or do you need any specific experience?
The main components are off the shelf i.e., supercharger (Rotrex), electric motors (Lehner), and electronic speed controllers (MGM CONTROLLERS). Connecting these components together mechanically isn't particularly difficult. The real challenger and work were designing a control system such that the electric supercharger was integrated into the vehicle and the driver operated like any other boost device. To achieve this, you need to be able to design electrical circuits and write code. Being able to do or know someone who can do fabrication is also a big help.
D

ouble stack installed in vehicle Completed assemble ready for installation back in vehicle
Are you working alone or is this a collaborative project?
The project has been a two-person effort, me and my cousin Yanni who is a boilermaker. He completed all the custom fabrication you see in the project. Without him, this wouldn't have been possible.


What is the biggest difficulty you have had so far in the project?
At the start, it was definitely heat management. Getting heat away from the ESCs and motors so the system could run reliable took some time and effort. After that, it has been an ongoing iterative process of fine-tuning the control system to iron out the bugs.


How much time does it take to do such a project? (Approx.)
I have a busy full-time job so the project was completed mainly on weekends over the last 4 years.


Will you expand the project in any way in the future?
Yes, now that the internal combustion engine has been rebuilt with forged rotating assemble the plan is to take it as far as practical with the technology available. We are toying with the idea of adding a turbo to make a higher boost at high engine rpm and using the electric supercharger as an electric anti-lag system.


In your project, you chose to use our ESCs. How do you feel about them so far? How was the connecting or implementing them to your build?
The MGM ESCs have been flawless. I have regularly pushed the ESCs beyond their limit and the inbuilt protection has shut down the ESC in a controlled manner without ever causing permanent damage. The trips have mainly been due to over current and MOSFET over temperature. I know for sure if I was using a cheaper product, I would have fried them multiple times.
For implementation, my control system outputs a 4 to 20 mA analog signal so all I had to do was convert the analog signal to a PPM signal and feed it into the ESCs.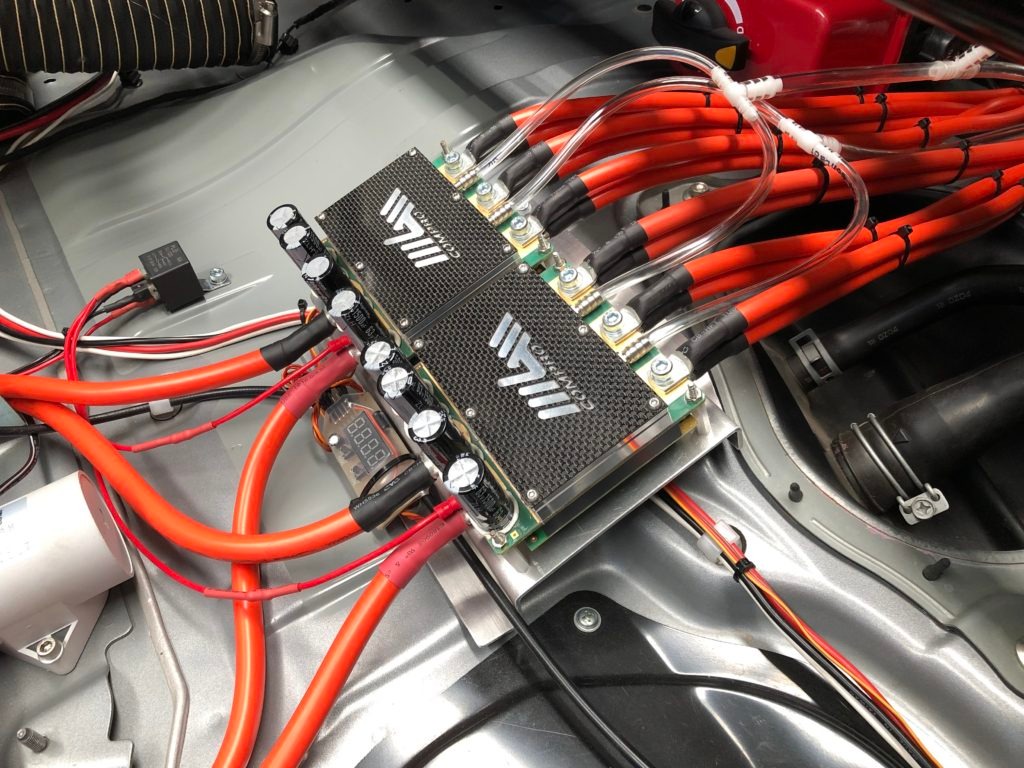 ESCs on the new mount and with upgrade cables MGM TMM 40063-3
What would you recommend if I want to start a similar project?
Do your research, have a clear goal, and do as much mathematic modeling as possible before you lock in your design and select components. Do as much testing on the bench as possible before final implementation.
E-charger Bench Testing