TMM 25063-3 for Race Boats X2-SERIES
Price includes these selectable options
TMM 25063-3 for Race Boats X2-SERIES

579

EUR
ON/OFF switch

2.95

EUR

Yes

WP version (increased protection against water)

9.95

EUR

Yes

design with water-cooled heatsinks

84.95

EUR

Yes

power cables 10.0 mm2

19.95

EUR

Yes

design with axially placed capacitors and power conductors (cables)

0

EUR

Yes

Price total

696.80

EUR
Why should I buy this product?
3 Years Warranty
Premium Customer Service Exclusive
AwardWinning 32-BIT SYSTEM
Top Care and Engine Control
Unique System of Battery Care
Battery Long Life Mode
Precise Data Logging + Data Analysis
More Performance, Efficiency, Speed
Each Piece Tested - 100% Warranty
Unique Parameters and Options
Gold up to 8-Layer PCBs, 105um
MGM COMPRO Industrial Technology
Made Using Top Technologies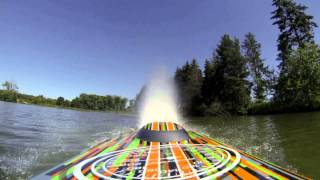 On Board of MHZ Mystic 138
Fantastic design, fantastic performance, amazing speed. Enjoy the "on board" video taken by GoPro. Power unit 2x LMT 3040/9 LK, speed controller (ESC) 2x TMM 25063-3 X2-SERIES, battery 2x LE5000 10S.
Product parametrs
| | |
| --- | --- |
| Empty batt. behaviour - instant motor cut-off | Yes |
| Setting of the range of neutral zone | Yes |
| Possibility of switching reversible controller into "one-way" mode | Yes |
| Reversible controller (both-way mode) | Yes |
| Bidirectional "both-way" mode | Yes |
| ACL - Automatic Current Limiting | Yes |
| ACR - Automatic Current Reduce | Yes |
| Temperature fuse of the controller | Yes |
| Current fuse of the controller | Yes |
| False-start protection | Yes |
| Masking of interference | Yes |
| Software reversal of rotation | Yes |
| Empty batt. behaviour - motor power reduction | Yes |
| Adjustable deceleration speed | Yes |
| Adjustable acceleration speed | Yes |
| External signalization of important states | Yes |
| Possibility of connecting plane position lights and flashing lights | Yes |
| Active free-wheeling circuit ON / OFF | Yes |
| Possibility of automatic setting of throttle limits | Yes |
| Possibility of manually set timing | Yes |
| Automatically set timing | Yes |
| Manually set type of cells | Yes |
| Possibility of manually set number of cells | Yes |
| Possibility of automatic setting of cut off voltage | Yes |
| Possibility of setting switching off voltage | Yes |
| Possibility of setting an amount of residual energy for BEC | No |
| Possibility of setting the voltage of BEC | No |
| Possibility of very powerful switching BECs | No |
| Possibility of setting current limits | Yes |
| Possibility of setting RPM limits | Yes |
| Possibility of motor temperature measuring | Yes |
| Possibility of cells temperature measuring | Yes |
| Outstanding cells management | Yes |
| Very high resistance against overloading | Yes |
| Plug and Play (functional immediately without the need for additional programming) | Yes |
| ICS-2 connector - super-fast PC connection link | Yes |
| Programming using PC | Yes |
| Reading-out of data from the controller using PC | Yes |
| Software updates available through internet | Yes |
| Telemetry (back data transfer) | Yes |
| Real-time Monitoring (PC or other device) | No |
| Internal Data Logger (data recorder) | Yes |
| Possibility of design with ON/OFF switch (connected safely) | Yes |
| Possibility of WR version (full protection against water) | Yes |
| Possibility of WP version (increased protection against water) | Yes |
| Possibility of design with external heatsinks + FAN | Yes |
| Possibility of design with water-cooled heatsinks | Yes |
| Possibility of design with external heatsinks | Yes |
| Length of the servocable | 190 [ mm ] |
| Servocable cross-section | 0.25 [ mm2 ] |
| Length of the power conductors | see guide [ mm ] |
| Power conductors cross-section to batt. / to mot. | see guide [ mm2 ] |
| Weight incl. all conductors | see guide [ gram ] |
| Weight without power conductors | 300 [ gram ] |
| Dimensions with external capacitor | see guide [ mm ] |
| Dimensions | see guide [ mm ] |
| Max RPMs | 250.000 |
| On-state switch (FETs) resistance at 25 °C | 2 × 0.8 [ mW ] |
| Motor PWM frequency | 8 - 32 [ kHz ] |
| Number of regulation steps | 2048 |
| BEC short circuit protection | No |
| Max. BEC current at 25 °C | No |
| Switching HV-BEC voltage | No |
| Switching S-BEC voltage | No |
| Available BEC / OPTO versions | OPTO |
| Max. peak current (peak 5 sec.) | 360 [ A ] |
| Max. continuous current (for full throttle) | 250 [ A ] |
| Operating voltage | 12 - 63 [ V ] |
| Compatible with all types of feeding cells | Yes |
| Number of A123 feeding cells | 5 - 17 |
| Number of NiCd, NiMh feeding cells | 15 - 44 |
| Number of Li-Pol, Li-Ion feeding cells | 4 - 15 |
| "One-way" mode | Yes |
| Possibility of setting current limits | Yes |
| Possibility of setting RPM limits (motor protection) | Yes |
| Possibility of motor temperature measuring (motor protection) | Yes |
| Possibility of cells temperature measuring (cells protection) | Yes |
| 4 Memory Banks | Yes |
| 32-BIT SYSTEM | Yes |
| Automatic Sensor Setting | Yes |
| Possibility of operation also with sensors motors | Yes |
| Real-time Monitoring (PC or other device) | No |
| Telemetry (real-time back data transfer) | Yes |
| Internal Data Logger (data recorder) | Yes |