30063 X3-SERIES
Price includes following configuration
| | |
| --- | --- |
| 30063 X3-SERIES | 808,00 € |
| Design with active FAN cooling (1 × FAN) | 19,95 € |
| power cables 6.0 mm2 (10 AWG) | 8,95 € |
| Price total excl. VAT | 836,90 € |
Need a different configuration?
Make your own custom configuration that fits your model. Choose from multiple add-ons and stand out from the crowd.
CONFIGURE YOUR OWN
Number of cells
4 - 15
Continuous current
300A
Meet the evolution!
30063 X3-SERIES
is the successor of the compact X2-SERIES 250A ESC. While all
dimensions of the ESC remained the same, the power increased!
Now ready to deliver an impressive 18.9kW of raw power to your model, the possibility of connecting up to 15 cell battery makes this ESC's size-to-power ratio unique.
What's new?
The X3-SERIES connects and retrieves data much faster than the previous generation. The new USBCOM6i PC module and CC_12 cables come with updated Controller 3 software (finally being available on MAC) with wireless connection and will soon support wireless connections and a mobile app.

The ESC can store multiple datalogs for up to 12.5 hours, eliminating the need to read and save data after each run. We've worked on reducing cogging during acceleration, achieving almost "sensored" performance while running sensorless motors. The ESC will automatically switch from sensored to sensorless mode if anything happens to your motor. (Battlebots team, we've got you covered).
Design change!
By default, this controller is now shipped with ring terminals instead of soldered wires. This offers a stronger and industry-standard connection, allowing for easy replacement of wires with longer ones or the addition of external capacitors, all without the need for soldering.

ESC comes equipped with:
Motor temperature sensor
Battery temperature sensor
5V hall sensor compatibility + cable with EFRA connector
PWM cable
Telemetry cable (compatible with

JETI, Graupner, and

Futaba telemetry!)
ON/OFF Switch
Special coating of all PCBs for humidity protection
You can configure cables, connectors, and accessories under the "CONFIGURE YOUR OWN" button.



| | |
| --- | --- |
| Real-time Monitoring (PC or other device) | |
| Bidirectional "both-way" mode | |
| Software updates available through internet | |
| Internal Data Logger (data recorder) | |
| Telemetry (real-time back data transfer) | |
| Weight without power conductors | 382 gram |
| Number of cells | 4 - 15 |
| Max. RPM | 200000 |
| | |
| --- | --- |
| Max. phase current | 460A |
| Continuous current | 300A |
| Weight incl. all conductors | 668 gram |
| Operating voltage | 12 - 63 V |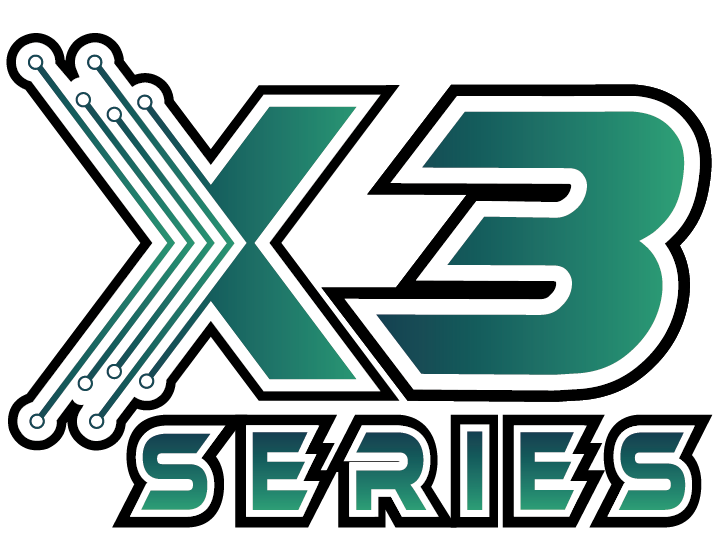 The X3-SERIES is the result of over 30 years of experience in ESC development. Our newest ESCs are designed to be pushed to the limit = that's when they are most efficient. Just turn on the Keep-the-Limit function and break the records! X3-SERIES controllers have a much faster PC connectivity with our Controller 3 program finally available on Apple devices. The ESC has been upgraded with larger memory and can store up to 12.5 hours of data.

Developed with RC modelers in mind, we used our experience from various industrial projects to create reliable ESCs with sophisticated system of fuses for the safety of your model. This comes backed by 3 years warranty.
Warranty
Premium customer service
High controller efficiency
up 12,5 hours of data logging
Unique systemof battery care
32 bit system
KEEP-THE-LIMIT Function
Each piece tested
Golden multilayerPCB - 105µ
17kW beast for length restricted models. Popular option among RC modellers.