The Electric Kraken Vekta.5!
MGM CONTROLLERS and WheelMan Designz have come together to offer one of the most advanced RTR Electric 1/5 scale RC Cars ever made.

This monster buggy is powered by TMM 40063-3 X2 Series PRO in combination with one of the highest-performance electric motors on the market – LMT 3080/6. With 15 kW (20 HP) output and more than 50,000 RPM, it is easy to reach high speeds of 160 kph (100 mph)!
What you get?
ARTR stands for "Almost Ready to Run", since there are no batteries included in the package. You can get suitable batteries. For unlimited power, we do recommend 3 packs of 5s LE5000 batteries.
Kraken Vekta.5 "ARTR"
Wheelman Designz conversion kit for Kraken Vekta.5
Motor: LMT (Lehner Motoren Technik) 3080/6 motor
Speed controller (ESC): TMM 40063-3 X2-SERIES PRO
USBCOM5 + CC_11 - PC connectivity cables for ESC programming
16t 1.5 mod pinion
Unique Kraken Vekta.5 in MGM CONTROLLERS design!
Professionally assembled and ready to run!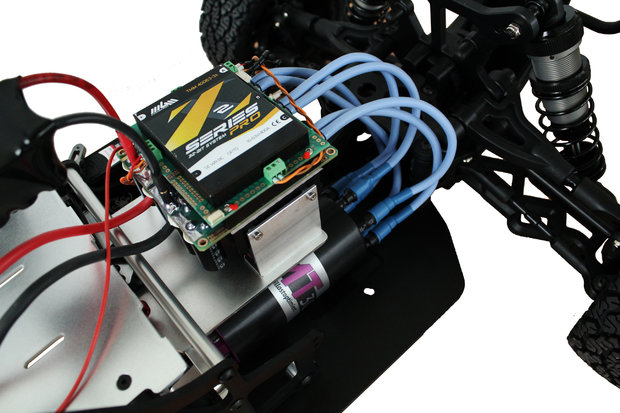 Electric conversion by Wheelman Designz
Enjoy the raw power of this unique electric converted Kraken Vekta.5 by WheelMan Designz.WheelMan Designz has years of experience designing and manufacturing aluminum aftermarket parts for RC trucks. Their Kraken Vekta.5 electric conversion kit has not only been designed to be as functionally durable as the truck itself, but has also been manufactured with quality and precision that are second to none! These values, also shared by MGM Compro, are what brought MGM & WheelMan Deisgnz together to create the electric Kraken Vekta.5, the meanest looking electric 1/5 Scale on the market today.
WheelMan Designz Electric Conversion kit consists of:
1 Front transmission/motor mounting plate
1 Rear transmission plate
2 Rear upper link mount attachment braces (which bolt to the front transmission plate)
1 battery plate
4 aluminum spacers (for mounting the battery plate)
1 ESC mounting plate
Truck SPECIFICATIONS:
Type: CLASS 4400 Buggy 4WD
Scale: 1/5
Length: 34.8in (884mm)
Width: 22.83in (580mm)
Height: 12.60in (320mm)
Ground Clearance: 1.97in (50mm) adjustable to 3.98in (100mm) * Wheelbase: 23.94in (608mm)
Main Chassis: 5mm thick 6061 T6 aluminum
Suspension: Front-Wheel Independent with Solid Rear Axle
From RC modellers to RC modellers
In 1997, as one of the first companies, we have started to develop and manufacture the processor-based speed controllers for electric motors. We have been pushing the envelope and bringing something new and better to the RC market since then.
Together with a team of developers and engineers, we were able to cooperate with not just RC modellers, but also numerous Battlebots, Hyperloop or Solar-boat teams and Youtubers from all around the world. With the backing and experience from industrial projects, we are able to bring reliability and safety into the most powerful models and break various world records.

The successor of the legendary LOSI 5ive-T is here!
Ready to Run comes completely assembled and professionally pre-programmed.